Expo Weekend begins on

11/18

with the new film from Warren Miller Productions
| | |
| --- | --- |
| DATE(S): | Friday November 18, 2011;   8:00 pm |
| COST: | $8*, $6* Students and Seniors |
| AGE RESTRICTION: | None |
| TYPE: | Film |
The pressure is off. No one is watching. It's just you, your boards and the mountain. The weather has broken and the snow is untracked. The only sound is that of your breath, crystallizing in the winter air. There's only one place to go, but there are an infinite number of ways to get there. Adjust your gear, take a deep breath and . . . ski, shred, huck, bomb, launch, spin, charge . . . Like There's No Tomorrow.
This year, Warren Miller Entertainment offers your first stop for preseason powder stoke, with the introduction of its 62nd annual winter sports film,Warren Miller's . . . Like There's No Tomorrow. Narrated by Olympic Gold Medalist Jonny Moseley and shot on location on five continents, . . . Like There's No Tomorrow celebrates the moments that make up a perfect winter. Tour the world's most inspiring snowy landscapes, from the rugged peaks of New Hampshire's Mount Washington to the legendary powder of Squaw Valley, California; from the striking Himalayas in Gulmarg, India to the southern hemisphere's highest peak in Portillo, Chile. Alaska. Utah. Colorado. New Zealand. Norway. It's all here, just waiting for you to fill in the blank.
Watch world-class athletes – including Chris Davenport, Julia Mancuso, Daron Rahlves, Colby West and Seth Wescott – drop lines most of us only see in our dreams and learn, frame-by-frame, how to live . . . Like There's No Tomorrow. Check warrenmiller.com for a complete showcase of this year's film locations and extended athlete bios.
. . . Like There's No Tomorrow is your annual reminder that winter is on its way and, with it, an adrenaline-fueled dance with gravity. "We welcome winter with everything we've got," explains the film's director and producer, Max Bervy. "Because, while there's always a tomorrow, there are only so many dawns with fresh snow."
Warren Miller's . . . Like There's No Tomorrow will sweep the nation as a limited, high-definition release, stopping in more than 240 U.S. cities, including major markets like Seattle, Chicago and Los Angeles. With screenings often running for one night only, Warren Miller films attract a cult-like following and mark the official start of winter for sports enthusiasts everywhere. Warren Miller premieres are an experience, a party and a phenomenon not to be missed.
 Then on 11/19 we will have our
Fall Outdoor Expo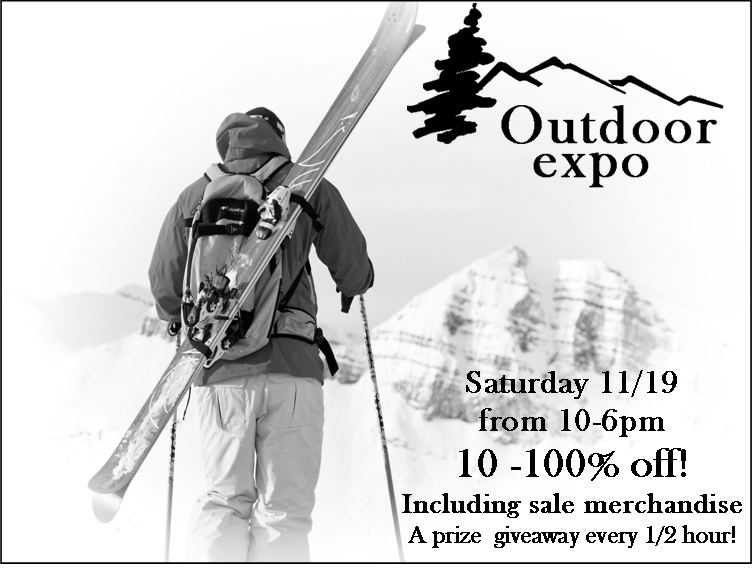 Have questions about gear?  We will have vendor representatives in the store to answer all of your questions, now matter how complex.  This is the best day to get information for planning your next adventure, not to mention get a great deal on gear!
This is one of the few times during the year that we allow discounts to be placed on top of sale prices.  So if you have an item that is 50% off already, any discount you pull at the register will be added onto the existing discount.  This means you get phenomenal prices!  Your discount gets applied to the whole purchase, it is not limited to one item!
You don't want to miss this weekend!  Come out for the Warren Miller film and then come out for our EXPO on Saturday, November 19th, from 10 – 6 pm.
GET YOUR GEAR.